BRAINSTORM
your ideas and create great stories.
Brainstorming isn't simply finding a quiet corner to think. There's a whole science to it. We've done some of the hard research work for you, sifted through reams of internet copy, watched hundreds of hours of educational videos. The result is this handpicked selection of resources to get you brainstorming fast.  *These resources are from our esteemed colleagues' websites. They open in a new window. Enjoy!
4 Creative Brainstorming Exercises for Screenwriters
In this article, screenwriter Amy Suto shares some terrific ideas to help optimize your creativity while improving your writing process with exercises. You'll find both practical tips for brainstorming –like developing an ideas board, using a storyboard, and working to identify your main character's traits– and writing prompts to practice.
8 Filmmaking Tips For Brainstorming Ideas - Screencraft
In this Screencraft article, author Ken Miyamoto focuses on how to brainstorm ideas for short films. Bonus 2 for 1: There's a terrific short video (six minutes) embedded in the article covering the brainstorming process for short films, by screenwriter/director/producer Darious J. Britt, which forms the spine of the article and from which Ken draws his list of tips for brainstorming shorts.
Four easy ways to brainstorm screenplay ideas - Write & Co.
Screenplay consultant Naomi Beaty's Write&Co shares these simple but terrific brainstorming ideas for screenwriters, especially for those times when you need an active screenwriting Muse to help you brainstorm and generate multiple premises on demand. Whether none of your concepts on file give you that je ne sais quoi sense of urgency to write it now; or you're meeting with a producer and dreading the question "What else do you have?" Or your new manager wants you to pitch him thirty new ideas at lunch on Friday. Check out Naomi's fun and novel brainstorming ideas to get your creative juices flowing.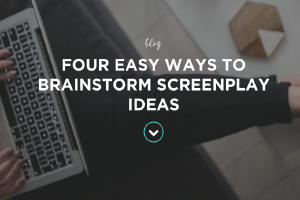 Script Ideas: 5 Proven Ways to Unlock Original Movie Ideas
"Release your creativity, effectively brainstorm and come up with plot ideas that'll get your next script noticed."
Whether it's turning off your phone and spending time outdoors, plundering real life, or reading other screenwriters' loglines, this article offers some tremendous ideas to help you brainstorm your new screenplay into being. Great movies start with great ideas that you can turn into great scripts. Start with a good brainstorming session.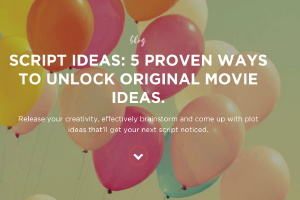 In this  video, Film Courage interviews Scott Myers, screenwriter/ professor and creator of gointothestory.blcklst.com. Scott reveals his four core tips to help screewriters brainstorm ideas.
In this Film Courage video interview, screenwriter and author Travis Seppala shares a fun brainstorming game in 8.5 minutes to help screenwriters come up with ideas. Play the Comp Game (this movie meets that one) to brainstorm new ideas.
Film Courage gives us this wonderful five-minute interview clip with Karl Iglesias, who shares his tool to help writers generate original ideas. Brainstorming, says Karl, means screenwriters must avoid clichés and go deep to find your originality. The tool involves forcing yourself – the screenwriter – to go deeper when you're brainstorming and identify 20 different non-cliché scenarios for every beat or special scene.
Again from Film Courage, this half hour compilation features writers/ directors/ producers who share their ideas about brainstorming and comment  and provide advice on ways to brainstorm and come up with movie ideas. The brainstorming ideas include: An Idea Every Day, The 100 Idea Theory, Twenty Ways, What's The Big Problem?, True Life Stories, What If?, Movie Scenes and Dialogue, The Comp Game, The Underbelly Of Life, and Sounding Board. Enjoy! (30 minutes)